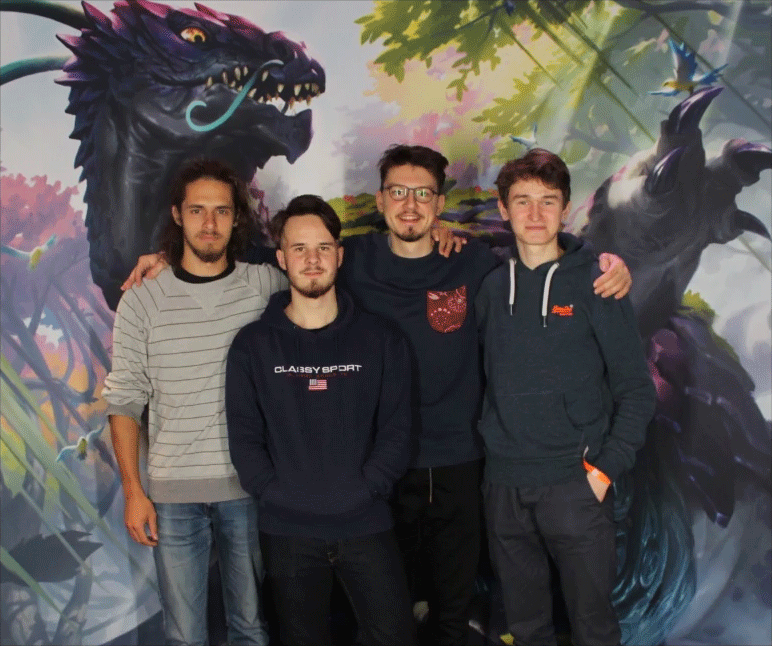 Hello world!
Oh, how I wished to say that for a very long time! Or is is too retro to use such a fraze in 2019? Well, who cares, as this is our first blog entry and we are exited to start documenting our development stories as they unwrap and unfold. Ups and downs, joyous moments of game releases and frustrations after way too many bugs infest our passion projects. All of the tastes of life of dedicated part-time indie developers from Vilnius, Lithuania.
We hope that you will find some interesting bits and peaces to take away from our rambles and rants.
EGX 2019
It could not be a better timing for our first story, as our team has just recently visited EGX 2019 in London, UK. Previously known as Eurogamer Expo, EGX is the biggest gaming event in the whole of UK.
If you are even a bit fluent in the world of games, you would probably ask, why EGX, when there is GamesCom, one of the biggest gaming expos in the world even a bit closer at hand from Lithuania? The answer is a simple one. We have been there, seen that. Of course, every year is different, but our team wished to get a broader picture on such type of events. We were looking for alternatives to GamesCom and stumbled upon EGX, which showed some promise with a slightly different take on a genre. It was a gamble, but a nonetheless successful one. EGX was different, smaller of course, but a lot more graspable and friendly.
One of the strongest parts of the show was the enormous support for indie developers. We were delightfully surprised on how much space of the show floor was dedicated to indie games. Compared to GamesCom Indie Arena Booth, which claims to be the biggest in the world, EGX had a lot more to offer in the shape of the so called "game collections". The event had a substantial amount of highlight indie games like Flotsam, Pathway or Wargroove, but it also featured a plethora of non-commercial and even experimental games. BAFTA collection featured prominent young game designers (well, like really young, up to 18 years old!) and their first games, allowing them to get the well needed attention and experience. It was extremely sweet to see such support and awe at the potential of their games. Another celebrated addition to the indie part of the event was Leftfield collection. A list of games which aim for something completely novel and sets themselves aside from all the other games. The highlights of this collection, just to name a few, were a real world collaborative game about urbanism, a hybrid game/art project exploring the perception and perspective of cubes and a hilarious nutty game of surveilling squirrels in the forrest. Yes, the indie section was a total blast!
However, EGX was far more than just indie. It also had the biggest classic names in gaming like Playstation, Nintendo, DOOM and others. How can a gaming event even take place without them? Impossible. Although, even the big guys had something interesting to offer for our "more refined taste" :). One of the highlights could be the project Dreams from Media Molecule, enabling players to develop games, rather limited in scope and variety, but with even easier, more gamified tools. It was a nice addition from the developers of beloved Little Big Planet. Moreover, CD Project Red has prepared a true feast for us, as we were able to observe a live gameplay session of one of the most anticipated games of this console generation - Cyberpunk 2077! We could not believe our own eyes!
Thankfully, EGX was prepared to calm our pounding hearts after the glimpse into the dark but tempting world of Cyberpunk. The event hosted an extensive retro gaming area featuring everything from classic arcade machines all the way up to PS3 consoles, and yes those are already considered to be retro. Everything moves so quickly in the world of gaming…
Also it should not to be forgotten, that the show floor has treated us with a possibility to relax with an amazing selection of table games, playing which proved to be a truly bounding experience for our team, when compared to all the other solitary video games.
All in all, EGX proved to be an experience well equipped to be compared to it's big brother GamesCom. Yes, it comes smaller, yes it doesn't have ALL the biggest names of the year, but with that comes a bigger array of indie titles and of course most importantly, you just don't have to feel like in a herring barrel. You simply can contain your 1sq. m. of privacy, which is usually lost in the sweaty ocean of humans in GamesCom. And we haven't even mentioned the discussion sessions, the development talks, portfolio reviews, live game presentations and other quality events, absent in so many consumer game shows. In any way you will have to see it all for yourself, in this lost gem of an event!
Cheers,
Povilas from Weekend Warriors.